About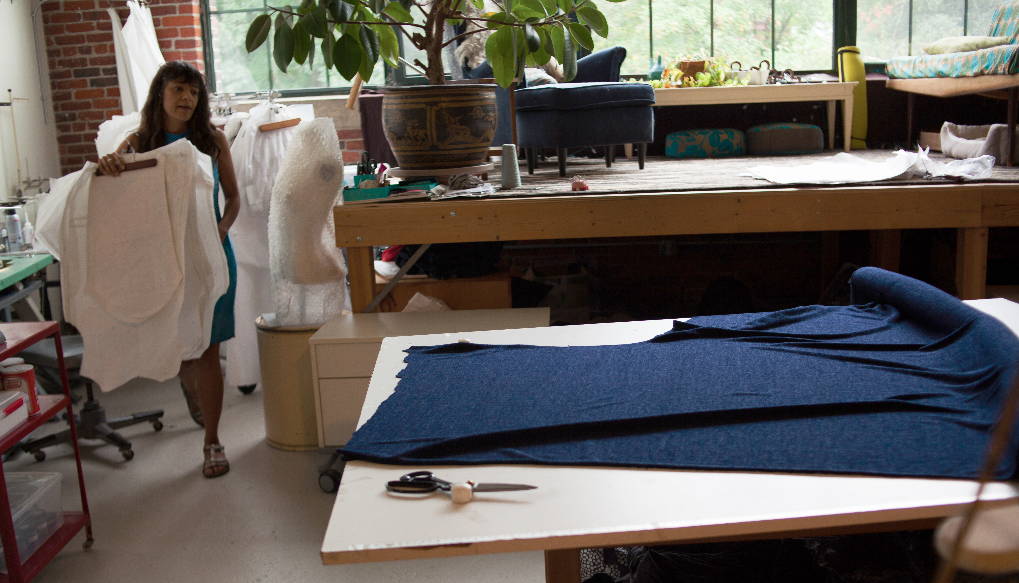 Antoinette's design philosophy
When I design, I always have the women who will wear my clothes in mind. I think about their lives and what they need from their clothing.
It's important to me that my clothing is for everyday use, worn by women as they live their daily lives.
I want my clothing to flow and flatter a woman's body, not fight her curves.
My design style is pretty intuitive and I use my own invented stitch details to help define and shape each piece, thinking about how it will look on the body.
I'm basically self-taught and this has given me the freedom to create my own style that is unlike other designers' work.
Meeting customers at shows, seeing them try on clothes, and listening to them, is a really important part of my creative process.
Growing up in London in the 70s and 80s, my mum had a fabulous sense of style. I loved her dresses from the 60s and I wore vintage clothing for years. Her style was to be a big influence on my later work. My parents' house was full of antiques from around the world so I was surrounded by beautifully made objects that inspired me to create.
When I wasn't reading or doing school work I would be drawing, painting or just making things, often knitting and sewing. Eventually I studied conceptual sculpture at Chelsea School of Art & Design, becoming interested in simpler forms and more basic materials. The art povera movement was another influence.
When I moved to New York in the 90s, I found myself going back to fabric and knitting, and started Cinderloop in 2002 with hand-dyed tee shirts with crochet inserts. I sold them at the The Young Designers Market in Nolita, where with the help of my designer friends, I eventually progressed to designing women's clothing.
My work has evolved over the years and now I am mostly focused on making practical, beautiful clothing that you can wear every day. I sell at shows around the Northeast and beyond, a few stores and now online!
I currently live and work in Lowell, MA where I'm part of a vibrant artist community at Western Avenue Studios .